This software is subject to the terms and conditions of the accompanying End User License Terms. This software is provided only for use with, and for licensed End Users of, the disguise hardware. Any other use of this software is strictly prohibited and may subject you to legal action.
What's new?
When we launched r17, we set out to bring valuable improvements to the usability of our workflow, to make the disguise experience faster and better for our community.
Our latest dot release goes one step further: 17.1 unlocks unparalleled levels of efficiency, while also making it easier than ever to deliver Augmented Reality experiences so you can captivate audiences at home and in live contexts like never before.

A next level AR workflow
Augmented Reality experiences are a great way for brands and artists to connect with their audiences at home and in live contexts. With r17.1 we've made it easier than ever to imagine, create and deliver AR. Broadcast a digital classroom for immersive remote learning or enhance the studio space for live-streamed events - all from the comfort of your living room.
Transition to anywhere
Unlock new visual possibilities and save time with sequenced transitions. Much like a universal crossfade, you can now freely and creatively apply transitions between different content sections on your timeline.
Create your own test patterns
You can now generate test patterns for the screens in the software. Save time and streamline your workflow by reducing the need to create test patterns in other tools.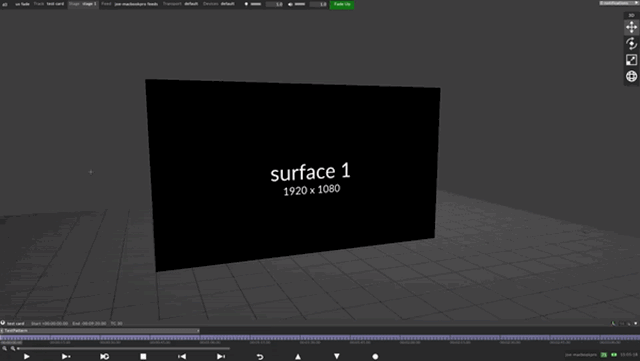 Also in r17.1
With 29 new features, 23 improvements and 74 bug fixes, r17.1 also introduces significant upgrades to integrated disguise workflows, including: 
EVO
As part of our ongoing commitment to improving the EVO workflow, you can now stream DMX universe one from Designer.
Notch
Notch parameters are now refreshed instantly when live-editing from Notch builder.

Notch render intervals can now be set through the UI.

It's now simpler to coordinate two objects in the software as Notch content layers can now be configured as 3D content. This allows for denial of perspective effects onto arbitrary surfaces, using an exposable camera in Notch and a perspective mapping.
OmniCal
It's now faster than ever to calibrate projectors.
Release notes for r17.1
Improvements, fixes and known issues in r17.1
New Features
DSOF-12898 - New Feature: DMX Screen type - GBR

DSOF-12301 - New Feature: DMX Screen type - BRG

DSOF-3599 - New Feature: Export list views to CSV files.

DSOF-11096 - New Feature: OmniCal: Improvements to network performance in busy network environments.

DSOF-11650 - New Feature: OmniCal: Significant performance improvements to capture & bundle adjustments on large quantities of projectors.

DSOF-12102 - New Feature: Import projectors from CSV files

DSOF-12702 - New Feature: TelnetMatrix devices can now have header and footer messages appended to the routing commands. This is to allow batch scripting of large quantities of matrix routes from a single device.

DSOF-7796 - New Feature: Ability to send custom UDP/TCP strings when failover occurs.

DSOF-13064 - New Feature: Improvements to the OmniCal Camera Stats user interface.

DSOF-12693 - New Feature: Proof Of Play - enabled via an Advanced Project Option, this will write a text log file for every clip played.

DSOF-12674 - New Feature: Added support for FreeD protocol and BlackTrax Helios system as camera tracking sources

DSOF-12433 - New Feature: Machine Status is now available via Telnet Json commands using JsonMachineControl device.

DSOF-12580 - New feature: Tracks now display timecode format in their header

DSOF-12651 - New Feature: TelnetMatrix devices now automatically zero-pad variables when the variable is preceded with a number of 0s.

DSOF-12747 - New Feature: d3 now prompts when your licence is nearing expiry

DSOF-12878 - New feature: Sequenced Transitions

DSOF-6419 - New Feature: Video Clip editor now shows the total length in H:M:S:F format as well as frames.

DSOF-8088 - New Feature: Ability to define the OSC heartbeat rate

DSOF-8624 - New Feature: VR now allows you to stand on venue mesh objects

DSOF-11259 - New Feature: User selectable value ranges for brightness, volume and colour properties. These are selectable from Project Settings.

DSOF-11979 - New Feature: DMX Universe 1 now outputs without watermark on Designer licences - to enable EVO capabilities.

DSOF-9694 - New Feature: Props now have an option to select if they cast a shadow, and the scale factor of that shadow.

DSOF-12633 - New Feature: Tab/Shift+Tab now work in Object views to select objects from the keyboard.

DSOF-12759

New Feature: Projector Masks now simulate in the stage simulator as well as affecting outputs.

DSOF-8088 - New Feature: Ability to define the OSC heartbeat rate

DSOF-8624 - New Feature: VR now allows you to stand on venue mesh objects

DSOF-12052 - New Feature: Support for 48fps CEA timing modes

DSOF-13095 - New Feature: GUI now supports ultra wide monitors.

DSOF-10497 - New Feature: Play Status as an OSC stream.
Improvements
DSOF-8852 - Notch: Performance improvements due to memory allocation changes.

DSOF-12377 - Improved tools for debugging issues with display devices.

DSOF-12432 - System Diagnostics now contain advanced windows network configuration to aid in support.

DSOF-12517 - Manipulators now remember their status when you restart d3

DSOF-12671 - Multi-editor now shows a splash screen when certain objects have been exported to a CSV

DSOF-7353 - Added support for Unicode keyboard character input directly into d3.

DSOF-9646 - Notch: Added Render Interval settings to enable Notch blocks to be run at 1/2 or 1/3 of machine frame rate.

DSOF-9765 - Camera Wireframes can now be hidden from stage visualisers.

DSOF-10569 - OmniCal: Performance improvement with bundle adjustments.

DSOF-11223 - Notch: Support for Unicode characters in text parameters.

DSOF-11225 - Notch: Exposed parameters are now refreshed when remotely live-edited in Notch Builder.

DSOF-11651 - OmniCal: Speed improvement of capture due to white level masks being used to take projector images in parallel.

DSOF-11702 - Alt Dragging selected ranges now allows bulk addition of objects to a list (for example, adding multiple screens to a mapping)

DSOF-11794 - OmniCal: Added ability to resume captures after timeout errors.

DSOF-12045 - Emulated EDIDs now use the disguise VID

DSOF-12288 - Resolved an issue where exported layers which were locked at the time of export would be imported to the same time in the new track. 

DSOF-12592 - Improved the handling of sort ordering when opening certain array boxes

DSOF-12941 - Added new buttons to ProjectorDevice editor

DSOF-12942 - Improved shutter response times when using ProjectorDevice

DSOF-12442 - List arrow sources in layer DMX Personalities

DSOF-12928 - The firmware version field will no longer be shown for VFC cards which do not have firmware (HDMI and DP VFCs)

DSOF-4015 - CITP: Added a "None" option when selecting a DMX Device

DSOF-12241 - Improved the UI of the multi-edit editor
Bugs
DSOF-10411 - Fading Down could sometimes cause warped feeds to lose their warping.

DSOF-11622 - Improvements to 10-bit behaviour on AMD based servers.

DSOF-12704 - When failing over from DMX trigger, the playhead of the understudy could sometimes jump backwards in time.

DSOF-12940 - When starting up d3 with an MST monitor connected, the GUI output would move to a VFC head on AMD based systems. This has now been resolved. Note that d3 does not support MST for outputs.

DSOF-12947 - Resolved an access violation when Notch blocks were deleted.

DSOF-2543 - Resolved an issue with video layers not outputting the correct frame when clip and output fps were adjusted

DSOF-10091 - Multi-editor renaming a device didn't take effect until enter was pressed, but was immediately reflected in the UI. This has now been made consistent.

DSOF-11687 - Notch: "Error caught in block..." errors could sometimes occur when clicking on Notch blocks.

DSOF-11737 - SockPuppet: Resolved access violation when deleting a SockPuppet patch

DSOF-11917 - Audio: Improved accuracy of seeking in VBR audio files (MP3/MOD/S3M/XM/IT)

DSOF-12041 - VFC: Configuring VFC cards could sometimes lead to an "Index outside bounds" error when setting Quad 4K mode.

DSOF-12063

- DMX: When deleting DMX patches, the DMX Patch Settings window would stay open. It now closes automatically.

DSOF-12095

- Notch: When opening a block from an editor, it would sometimes get reset. 

DSOF-12122

- SockPuppet: UI for setting bank allocations wouldn't allow for mappings to be mapped to slots.

DSOF-12513 - Manipulators now syncronise their status between different widgets

DSOF-12542 - Resolved an issue where locked layers would incorrectly split when timelines were split.

DSOF-12565 - Text fields now filter disallowed characters when pasting content from 3rd party applications.

DSOF-12586 - Multi-editor: fixed an issue where copied rows were not saved properly

DSOF-12588 - Fixed an issue where toggling locked to master caused the 3D manipulator controls to appear on the editor

DSOF-12622 - Fixed an issue where Notch layers did not upgrade properly from specific projects

DSOF-12650 - Added support for coupled capture inputs 2x as well as 4x on gx 2c.

DSOF-12661 - Fixed an issue where control devices which had been removed from the device manager could still send commands

DSOF-12665 - Fixed an issue that presented grey artifacts around pixel & population masks that had Alpha

DSOF-12666 - Resolved an issue with DSE and soft shadows which didn't blend correctly.

DSOF-12673 - Multi-editor sometimes does not export if the file extension gets deleted

DSOF-12696 - Fixed an issue that caused the GUI to be rendered in place of a missing diffuse map

DSOF-12738 - Fixed an issue where understudy failover commands could be sent before matrix routing commands were sent, resulting in mis-timed failovers.

DSOF-12810 - Fixed a rare issue that caused an error when using the F1 help widget

DSOF-12812 - Fixed an issue that caused an error when copying multiple keyframes into multiple keyframe editors

DSOF-12822 - Resolved an issue where masking objects on projectors disabled DSE on blends between active regions

DSOF-12844 - Resolved an issue with repatching Notch layers which would result in them losing all their properties.

DSOF-12847 - Agile Camera device now has Invert Pan and Invert Tilt functionality

DSOF-12872 - Resolved an issue where certain Windows permissions could cause d3.exe to fail to launch.

DSOF-12882 - Fixed an issue that caused a hang when moving a large amount of layers

DSOF-12888 - Resolved an issue where DSE caused there to be an outline around mask objects.

DSOF-12911 - Fixed an issue that caused field duplication when importing projectors

DSOF-12948 - Fixed an issue where an error was thrown if a notch layer was deleted before the playhead

DSOF-12959 - Fixed an issue where some DPI settings could cause errors on startup

DSOF-12972 - Fixed an issue where loading a Notch block without a notch license would cause a layer to become corrupt

DSOF-13097 - Fixed an issue that altered the default mouse wheel steps for editing keyframable parameters

DSOF-7048 - Fixed an issue that caused exposed parameters to re-appear after an undo action 

DSOF-8094 - Resolved an issue where SockPuppet Video layers with Speed toggled off would not play video.

DSOF-10442 - Screenshots on a Solo now correctly screenshot the GUI head.

DSOF-10508 - Typing in the search bar in CueSetList no longer resizes the Notes column.

DSOF-11242 - Fixed an issue where excessive copying and pasting a notch block could sometimes cause a crash

DSOF-11695 - Resolved an issue where it was possible to Bake/Clear fields on a locked layer.

DSOF-12103 - Half Speed Low Latency mode now has improved latency behaviour.

DSOF-12243 - Disabling and re-enabling manipulators would always reset the mode to Transform, now they will remember their mode.

DSOF-12264 - Resolved an issue where deleting an EventTransportDMX patch from the DMX Patch window would have no effect.

DSOF-12431 - Fixed text overlapping issue in the ProxyMaker

DSOF-12583 - Multi-editor: rows outside of the scroll view were incorrectly ignored for actions

DSOF-12584 - Multi-editor: fixed an issue where pasted values could show disallowed characters 

DSOF-12619 - Improvements to the Auto Z clipping algorithm

DSOF-12631 - Right clicking on Blend modes no longer shows an expression field, since expressions can't be applied to Blend modes.

DSOF-12743 - Resolved an issue with EventTransportDMX where Brightness would be set if any DMX on the same universe was received.

DSOF-12818 - Improved support for Swedish keyboard character usage

DSOF-12843 - Resolved a bug related to the UV maps of alembic files as projection surfaces.

DSOF-12935 - Fixed an issue that sometimes occurs when deleting a group of layers

DSOF-12937 - Improved tooltips to reflect new 10-bit based values

DSOF-12976 - Fixed an issue where the multi-edit dialogue would not open for feed rectangles

DSOF-12977 - Fixed an issue where changing device manager could sometimes create a stall

DSOF-13052 - Fixed an issue that sometimes hung the main thread when moving a camera in the stage

DSOF-12610 - Added support for longer projector names in Identify test pattern mode.

DSOF-12742 - Failover Test field in EventTransportDMX does not pulse blue when the value changes

DSOF-12758 - Trial no longer shows 'VR Navigator' menu, since VR is not supported in Trial.

DSOF-12839 - Fixed an issue in the video layer that sometimes occurs when baking keyframes

DSOF-12880 - Fixed an issue in the UI rendering of projector mask preview

DSOF-12919 - Resolved some memory leaks related to manipulators.

DSOF-12921 - Fixed an issue where the quantiser volume was not shown as a slider

DSOF-10871 - Fixed an error when attempting to use a notch layer with no name

DSOF-11246 - OmniCal: Mesh deform improvements on points seen by two cameras.

DSOF-11638 - 8 bit display modes were sometimes displayed in the VFC configuration properties despite the output being connected to a 10-bit monitor

DSOF-12370 - Quantiser metronome now supports 0-1 values rather than 0-255

DSOF-12701 - Fixed an issue where notes could sometimes span two lines
Resources
Keep up-to-date by getting the latest drivers, demo projects, PDF guides and much more.
Please select a category to see available resources.
No third party resources were found.
Previous Versions
You can find the latest releases below. If you need an older version please get in contact with support@disguise.one.
Hardware
Find the latest OS images, hardware guides and architectural specifications for your disguise server.