This software is subject to the terms and conditions of the accompanying End User License Terms. This software is provided only for use with, and for licensed End Users of, the disguise hardware. Any other use of this software is strictly prohibited and may subject you to legal action.
What's new?
A world in lockdown is challenging for all of us. But it shouldn't be preventing you from producing show-stopping visual experiences.
With r17.2, we've introduced enhancements that help to optimise your workflow at home and give you the best possible tools to create cutting-edge experiences for remote audiences.

Application Mode
With 'Application Mode', you can now effortlessly switch between apps and perform multiple tasks at once. Quickly pull down content from the web into your project or send work-in-progress to others to update on progress or gather feedback.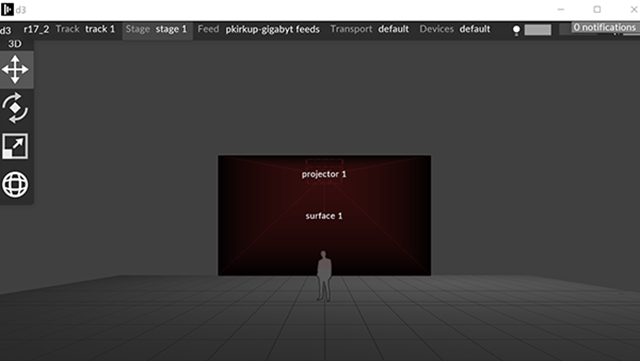 HTC VIVE tracking
You don't need to be in a studio or have to hire high-end tracking equipment to prepare AR experiences. HTC VIVE trackers can be used to emulate a camera or object tracking system so you can develop cutting-edge AR projects during lockdown in your living room.
Native AR
By adding a 'layer' selection on all visible 3D objects in the stage, you can now affect where the object is rendered. Create a simple AR screen with no need for third party integrations to test out your ideas for AR experiences.
Produce 360 video
Using the new 'Spherical Camera', you can export 360-degree video content created within disguise and use it to engage online audiences.
During production, pre-visualisation in 360 video is a great way to test arrangements, gather feedback and feel total confidence before publishing.
Also in r17.2
 RrGgBbWw pixel type support for DMX Screens.
MIDI note event transport now supports Play and Loop section play modes.
Exported file list now includes empty directories.
Release notes for r17.2.2
Improvements, fixes and known issues in r17.2.2
Bugs
Meshes are no longer loaded in parallel on background threads.

Creating reshape mesh with OmniCal creates perpetual hang on project launch.
View the r17.2.2 release notes here. 
View the r17.2.1 release notes here. 
View the r17.2 release notes here. 
View the r17.1.3 release notes here.
View the r17.1.2 release notes here.
View the r17.1.1 release notes here.
View the full r17.1 release notes here.
Please contact support@disguise.one for feedback and issues
Resources
Keep up-to-date by getting the latest drivers, demo projects, PDF guides and much more.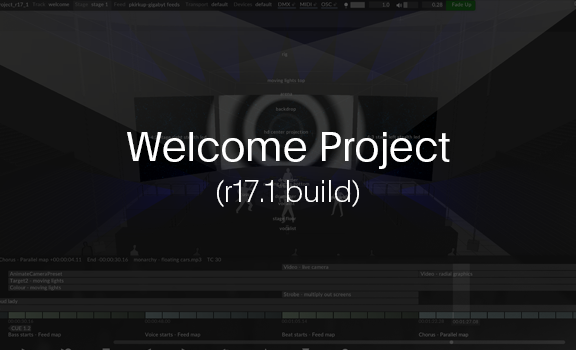 Welcome project
A fully featured project to explore as you learn the disguise software (built in the r17.1 software build)
Previous Versions
You can find the latest releases below. If you need an older version please get in contact with support@disguise.one
Hardware
Find the latest OS images, hardware guides and architectural specifications for your disguise server.