This software is subject to the terms and conditions of the accompanying End User License Terms. This software is provided only for use with, and for licensed End Users of, the disguise hardware. Any other use of this software is strictly prohibited and may subject you to legal action.
What's new?
Get complete control and deliver stunning visual experiences with the render engine of your choice.
As the demand for immersive real-time production is growing, our latest software release unlocks RenderStream support to enable truly engine-agnostic generative content. 
It also introduces new features like Project Snapshots, and other UX improvements like Widget Positioning, Individual Screen Freezing and User Defined Passwords, all purpose-built for complete programming control with less hassle.

RenderStream
Enjoy new levels of flexibility and control when rendering content from leading render engines, Unreal Engine and Notch. RenderStream provides low latency, uncompressed video transfer and unified parameter control directly from the disguise timeline on your core system. Learn more.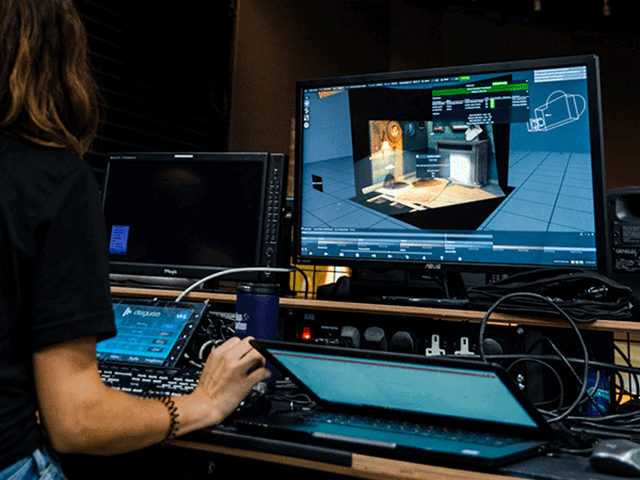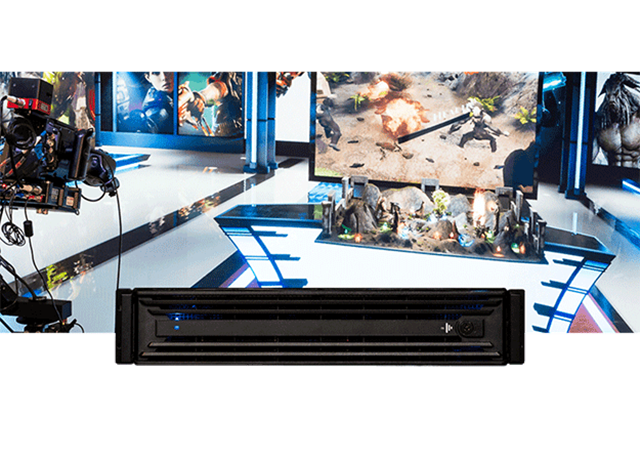 rx Support
rx is our dedicated system for hosting third-party render engines, enabling new possibilities for scaling out uncompressed real-time content. Paired with it, RenderStream enables agnostic render engine support so you can create captivating AR and MR experiences with no restrictions. Learn more.
High-quality visuals
RenderStream unlocks advanced render engine features such as DX12 real-time Ray Tracing in Unreal, allowing you to build more photorealistic scenes with high-quality reflections, refractions and accurate shadows.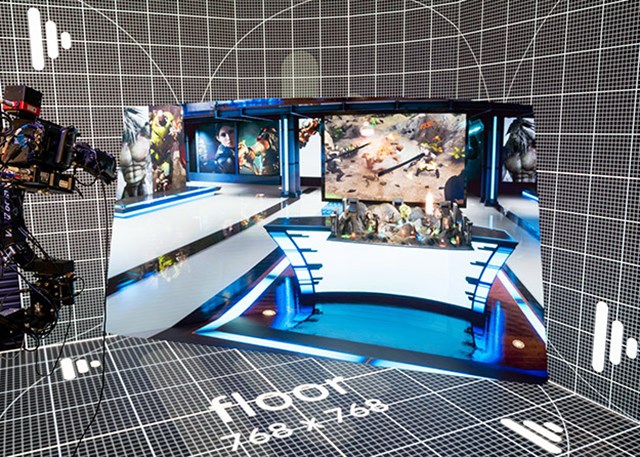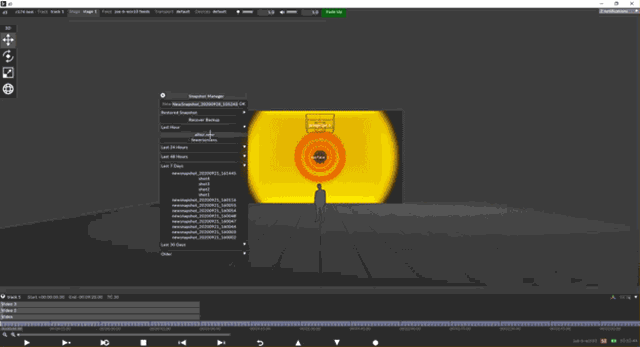 Project Snapshots
You can now store snapshots of your project at different stages of its progress and revert back to them at a later date, enabling faster workflow changes.
Also included
Widget Positioning moves items around the GUI for a smoother navigation experience
Individual Screen Freezing allows you to freeze the output from your screens and continue programming while these are held on a particular frame
You can now set a User Defined Password to unlock the software
DMXControl Layer can now output in 16bit
Exposable Arrays from Notch is now supported
sACN output synchronisation & priority is now implemented
RBG is now supported for DMX Lights & Screens
New footprints quality parameter that enables footprints to be disabled in certain render modes
OR function is now supported in expressions
Release notes for r17.5
Improvements, fixes and known issues in r17.5
Bugs
[DSOF-5396] - Sharing: d3 Projects folder not getting all sharing permissions set
[DSOF-11202] - OmniCal: ZIP archive of captured data is limited to 2GByte file size
[DSOF-11347] - Installer shows error that CPU does not meet minimum requirements when it fails to execute the instructioncheck process
[DSOF-11589] - VR: User height value gives incorrect position
[DSOF-12806] - VR home position causes controller navigation to teleport in the wrong direction
[DSOF-13869] - OmniCal remembers the DPI scaling of the machine the study was created on
[DSOF-13894] - VIVE Rotational parameters in frame of reference not working correctly
[DSOF-14620] - Snapshots: too many £ signs cause Snapshot to fail
[DSOF-14621] - Snapshots: When creating a snapshot name with £ sign this won't translate with a £ sign in the snapshots list/manager
[DSOF-14623] - Project Snapshots: Rolling back to Snapshot with £ name triggers "does not exist" notification
[DSOF-14772] - Improve GPU profiling code
[DSOF-14783] - 2 Clusters with the same asset should be able to request independently from different streams
[DSOF-14815] - build should ensure that the correct compiler version is used across all CI and dev machines [DSOF-14991] - Failing DmxPersonalityRegistry::getPersonality() tests
[DSOF-14992] - NDI: UYVY shows a green edge and is the wrong resolution (for some resolutions)
[DSOF-15092] - Omnical gui does not display default projector global settings unless advanced option is toggled
[DSOF-15112] - List editor with a high number of projectors needs to refresh after edits are made
[DSOF-15241] - Director doesn't accept editor's cameras and can't create its own once an editor has joined. [DSOF-15242] - Editor can't Change Type
[DSOF-15246] - Notch NDI Input Indexing Is Incorrect disguise Technologies 88-89 Blackfriars Road London SE1 8HA United Kingdom info@disguise.one www.disguise.one
[DSOF-15258] - Access Violation when creating a new feed rect after deleting the first rect but not the widget
[DSOF-15263] - MR set needs to be mapped to active feed for renderstream module to render content on dedicated director
[DSOF-15313] - Fit to contents fills entire track length when speed is 0 or below
[DSOF-15378] - RenderStream: streams are not being generated automatically
[DSOF-15381] - Deferred Jump arrow key behavior at section breaks is incorrect
[DSOF-15416] - RenderStream: scenes from levels does not work
[DSOF-15429] - SDI VFC not outputting for 1080i 59.94
[DSOF-15430] - New Resources in ResourceTransport are never cleared
[DSOF-15436] - No progress information when creating diagnostic zips
[DSOF-15438] - In a multi transport setup, crossfading to a section with a mixing blend mode (difference, hard light etc) causes the first few frames of content not mapped to all surfaces to show across all surfaces where the lower layer is mapped
[DSOF-15444] - Imported Group Layer on editor does not have extents transferred to director properly.
[DSOF-15455] - OmniCal: Python exception when first assigning a MobileCamera to a Camera Plan
[DSOF-15487] - OmniCal: VimbaCamServer process sometimes gets started twice
[DSOF-15541] - Notch layer and Notch_host both crash when loading in a specific block
[DSOF-15546] - Prevent Windows/Nvidia/AMD from recalling previous display configurations
[DSOF-15547] - Throttle FFS (CTRL+ALT+SHIFT+F12)
[DSOF-15556] - OmniCal: OSC code does not check if socket failed to be created
[DSOF-15590] - RenderStream: watermark is not present when performing Clustered Rendering
[DSOF-15603] - VR indicates a notification when the Stage widget is open
[DSOF-15607] - Private state is shared over RT every frame
[DSOF-15622] - Web layer causes d3 to crash
[DSOF-15636] - invalid map<k, t="">key error when Indirection Controller created on Editor
[DSOF-15641] - Snapshots can't be renamed or archived
[DSOF-15643] - Grouping layers on an editor causes unexpected behaviour of grouped layers on director [DSOF-15659] - Unable to select multiple reference points from the reference points manager
[DSOF-15663] - d3net manager expands past the edge of the screen.
[DSOF-15664] - New console logic can cause consoles used without contexts to crash d3 to desktop
[DSOF-15692] - GX Machines reporting valid RS Send License when it doesn't have one
[DSOF-15712] - RenderStream: !targets.empty() error when d3 is restarted when using camera based mappings
[DSOF-15713] - RenderStream: Access Violation when d3 is restarted after active stream using sublevels is closed</k,>
Improvements
[DSOF-13213] - Add support for Trackmen protocol for camera tracking
[DSOF-14784] - HDR processing of Unreal RenderStream content
[DSOF-15594] - Rework console to allow different endpoints
[DSOF-15595] - Ensure RenderStream 1.8 plugins are available for 17.5 release
[DSOF-3552] - Provide measured refresh rate of outputs in output debug menu under frame stats
[DSOF-11948] - Add per machine rollover highlighting to the DirectorStatusWidget
[DSOF-12378] - Add debug information dumps for display devices to system diagnostic
[DSOF-13396] - RenderStream: Configure, start, pause or stop instances
[DSOF-14063] - Indirections - make changes persistent through restarts
[DSOF-14099] - Improve frame of reference
[DSOF-14254] - Add parameter arrays to etw logging events
[DSOF-14636] - NotchHost: uncompressed RenderStream support
[DSOF-14639] - Add Foot Lamberts option to Projector Studies
[DSOF-14717] - Rename ScreenPositionReceiver
[DSOF-15019] - Move machine serial number from help -> License to help -> about d3manager in d3Manager.
[DSOF-15183] - Prevent d3 from losing focus / fullscreen when a remote diag is created
[DSOF-15229] - Provide a warning when output resolutions are different
[DSOF-15542] - OmniCal: adjust nConcurrency() usage for specific sub tasks, to optimise CPU/mem usage [DSOF-15545] - OmniCal: default lens in VimbaCamServer process should match the default in CameraPlan [DSOF-15548] - Report progress of FFS (CTRL+ALT+SHIFT+F12) in console and on front panel
[DSOF-15593] - SystemDiagnostics: Should include VimbaCPP.log from user's TEMP folder, if it exists [DSOF-15651] - Camera editor is too unwieldy - introduce separator hierarchy
View the r17.5 release notes here.
View the r17.4.12 release notes here.
View the r17.4.11 release notes here.
View the r17.4.10 release notes here.
View the r17.4.9 release notes here.
View the r17.4.8 release notes here.
View the r17.4.7 release notes here.
View the r17.4.6 release notes here.
View the r17.4.5 release notes here.
View the r17.4.4 release notes here.
View the r17.4.3 release notes here.
View the r17.4.2 release notes here.
View the r17.4.1 release notes here.
View the r17.4 release notes here.
View the r17.3.8 release notes here.
View the r17.3.7 release notes here.
View the r17.3.6 release notes here.
View the r17.3.5 release notes here.
View the r17.3.4 release notes here.
View the r17.3.3 release notes here.
View the r17.3.2 release notes here.
View the r17.3.1 release notes here. 
View the r17.3 release notes here. 
View the r17.2.2 release notes here. 
View the r17.2.1 release notes here. 
View the r17.2 release notes here. 
View the r17.1.3 release notes here.
View the r17.1.2 release notes here.
View the r17.1.1 release notes here.
View the full r17.1 release notes here.
Please contact support@disguise.one for feedback and issues
Resources
Keep up-to-date by getting the latest drivers, demo projects, PDF guides and much more.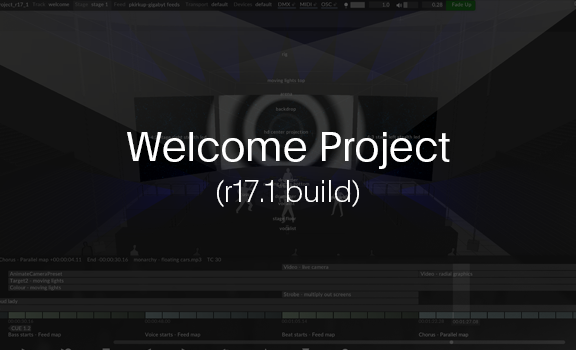 Welcome project
A fully featured project to explore as you learn the disguise software (built in the r17.1 software build)
Previous Versions
You can find the latest releases below. If you need an older version please get in contact with support@disguise.one
Hardware
Find the latest OS images, hardware guides and architectural specifications for your disguise server.