What's new?
r15 marks the culmination of four years of work - and the first page of a new chapter. 
We hope you enjoy using it as much as we enjoyed making it.
Please note, the full release version found above will only work with a disguise USB license key. To access the free trial version, click here.

Notch effects
r15.1 introduces a revised set of Notch effects including particles, blobs, various text effects and more.
This replaces the previous Notch block which can still be downloaded from our resources centre.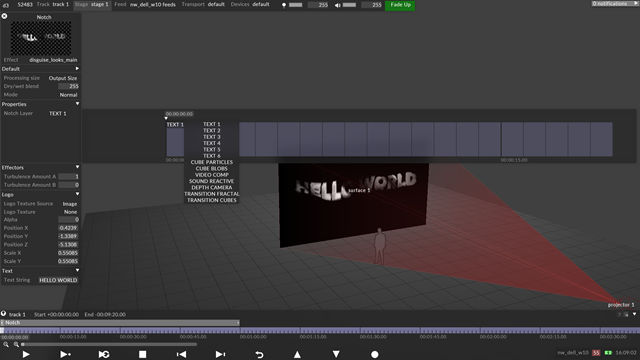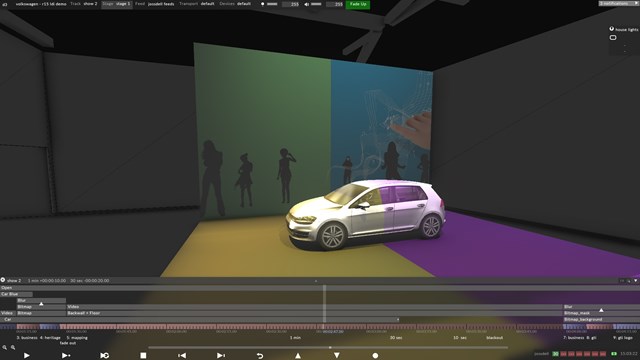 Lux
The new Lux visualiser includes ambient occlusion, directional light, camera exposure simulation, glow, shadows, and physically correct units.
Now you can quickly produce visualisations that are more artistically compelling and technically accurate.
OmniCal
OmniCal is a camera-based projector calibration system that quickly captures a point cloud of your stage, accurately calibrates projectors to sub-pixel accuracy, and conforms pre-existing surface meshes to match reality.
Choose between either OmniCal Wired Kits, designed for permanent installations, or OmniCal Wireless Kits, perfect for when you need a fast set-up.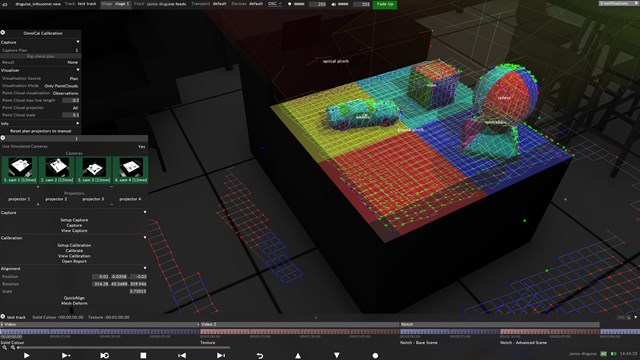 Heatmaps
Heatmaps measure and display the amount of light falling on surfaces from projectors. Export your projector study to provide paperwork evidencing the proposed setup against a target light level.
Now you can be more confident you have enough projectors to deliver the result your client expects.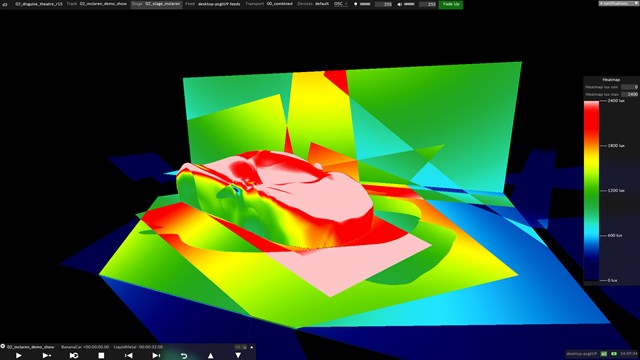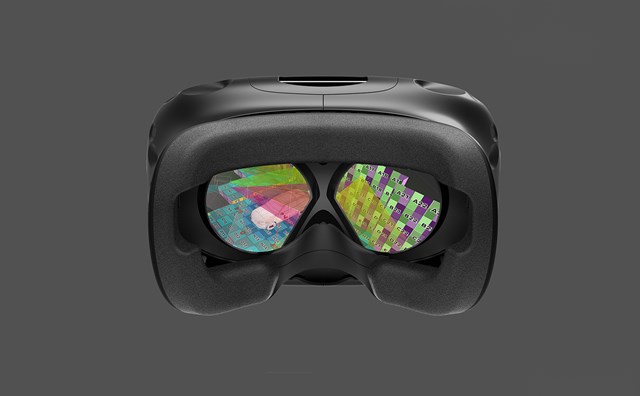 VR
VR lets you and your clients step into your fully simulated visualisation, and be completely immersed in your show.
Compatible with the HTC Vive and Oculus Rift.
Release notes for r15.1.8
Improvements, fixes and known issues in r15.1.8
Fixes
Display Management - 
Improve reliability of genlock on gx 1
Display Management - 
Address gx and plus range failure to start in headless mode
Current known issues
Audio
We have reports of users experiencing audio clicking or popping. Release 15.1.4 has some fixes to address this and reduce the chances of this occurring. However, we recognise that this has not been completely cleared up. Audio clicking may still be prevalent on higher frequency sounds. If you experience this try the following workarounds:
Reduce the volume of the audio. We are noticing that our interaction with drivers adds volume which can result in clicking

Use WASAPI instead of ASIO. The prevalence of clicking is more pronounced on ASIO

Edit the Hammerfall settings to reduce the Output Level (see screengrab below)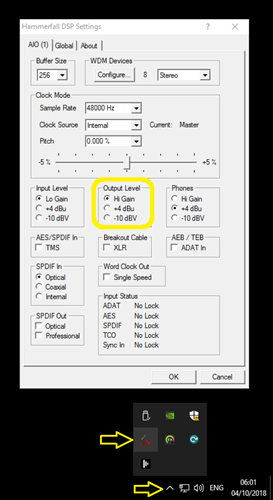 Audio clicking during high performance
Additionally, under heavy load, if a project starts to drop frames this may have a knock-on effect on the audio, especially if embedded into a video file
Downgrade your 15.1.x project to 15.0.7
If you have already sequenced your project in 15.1.x and want to downgrade the project to an earlier release prior to the audio issues, there is a special version of 15.0.7 to accommodate this. Notes:
Only downgrades

from

releases r15.1.0-r15.1.9

to

r15.0.7

Audio mappings will need to be repatched

Upgrade back to r15.1 should be possible, but not to another r15.0 release
Version 15.0.7 can be downloaded from here
LUT
[High-resolution LUT files] All sample LUT files included in r15.1 have a grid point count of 32. Although the layer supports higher numbers of grid points, this comes with the consequence of taking longer to load on project start (but will not delay the project itself). It is recommended not to exceed 64 grid points
OmniCal
Doing a rig check from simulated plan to actual cameras for the first time can result in the physical cameras being not found. Workaround: run the rig check with simulated cameras
Legacy known issues

VR
VR entails on additional render overhead

This may result in a poor performance
Upgrading 32-bit to 64-bit Sockpuppet shows
There may be issues upgrading Sockpuppet projects from 32-bit to 64-bit in 14.4.x builds. If your project falls into this category, please contact support@disguise.one who can arrange a project upgrade for you
Permissions error after installing
On a small number of machines, a python-based permissions error will prevent software from starting.

This issue can be solved by restarting Windows
Potential UI performance regression with long and busy timelines
With either long or busy timelines containing e.g. a plethora of notes/cues, the UI may suffer a degradation in performance

Minimising the timeline negates this
Slideshows transition time
The transition time between slides in slideshows is currently broken

The fix for this makes fundamental changes to timeline operations, so will take a while to work its way into future releases
Resources
Keep up-to-date by getting the latest drivers, demo projects, PDF guides and much more.
Please select a category to see available resources.
No third party resources were found.
Previous Versions
You can find the latest releases below. If you need an older version please get in contact with support@disguise.one.
Hardware
Find the latest OS images, hardware guides and architectural specifications for your disguise server.